Help put food on the table for people in need.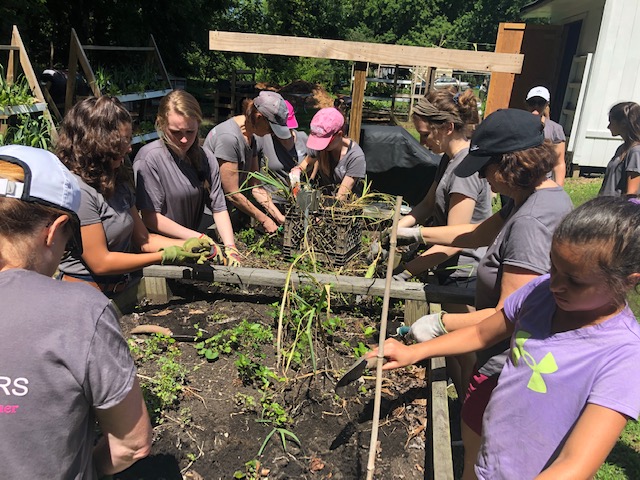 Volunteers are key.
Everyone working at the Food Cupboard is a volunteer, including our board of directors and all our hands-on shelf stockers, food organizers, bag fillers, food distributors, maintenance workers, gardeners, planners, phone answerers, ad writers, record keepers, website developers, and more. We help community partners with food drives, fundraising activities, food pick-ups, and awareness outreach. We manage the monetary donations that come in, pay bills for our Cupboard home, and file a yearly form 990 tax return for our 501(c)3 nonprofit organization. Many, many, volunteers allow all this to happen.
The Food Cupboard relies entirely on the local community to support our mission. Volunteers are a diverse range of individuals who help out in many different ways. You must be at least age 18 to help inside the Food Cupboard and at least high school age to help with food distributions to clients. If you are younger, you can volunteer in the food garden or help organize a food drive.
---
How Can I Help?
Hold a Food Drive
Our need for food is greater than ever, and you can be a vital part of helping put food on the table for people in need.
Volunteer Inside the Cupboard
Inside the Cupboard
Interested in volunteering inside the Cupboard by sorting donated food, helping with food distributions and more?
Sort and organize food, pack bags and stock shelves (Monday mornings and Thursday afternoons). You must be at least age 18. To volunteer inside the Cupboard, you will be required to attend orientation.
Click here to be invited to an orientation for new volunteers to learn more.
Distributions
Help set up for distributing food to clients, carry bags/boxes to client vehicles, and clean up on Thursday afternoons, noon-5 p.m. You must be at least high school age.
Volunteer in the Garden
Opportunities to volunteer in the garden are available for all ages and depend on the growing season.