Need Food? We are here for you.
Households have two options for receiving food from the Holly Springs Food Cupboard. Choose the distribution method that you prefer.
Park & Shop Inside the Cupboard for Food:
Mondays, 1-4 p.m.

By Appointment Only
Park your vehicle and come into the Cupboard to shop for your food.
You must make an appointment in advance.
Drive-Through Food Pickup:
Thursdays, 2-5 p.m.
Drive through, and stay in your vehicle.
Please have your trunk empty so food can be loaded.
See map, and holiday/weather information below
For both distributions, please bring a picture ID.
Remember, you may receive food once every 30 days.
Limited deliveries will continue to those in our service area and are available to persons with compromised health or without transportation. Please email [email protected] or call (919) 577-2210 and leave a clear message with a phone number where you may be reached if you would like to request a delivery.
Want to help food distribution flow faster? Print and complete this food application form for new clients and bring it with you. Not able to print the form? No problem! We can get your information when you arrive.
Have children? Student bags with kid-friendly snacks and food items are distributed every 30 days.
---
Make Sure to Leave Space in your Vehicle
Are you planning a visit to the Holly Springs Food Cupboard? Please make sure you have space in your vehicle for the food before you arrive.
This image shows the amount of food a family can expect to receive at the Holly Springs Food Cupboard.

Thank you for helping us serve you better by making sure your vehicle has space for the food before your visit.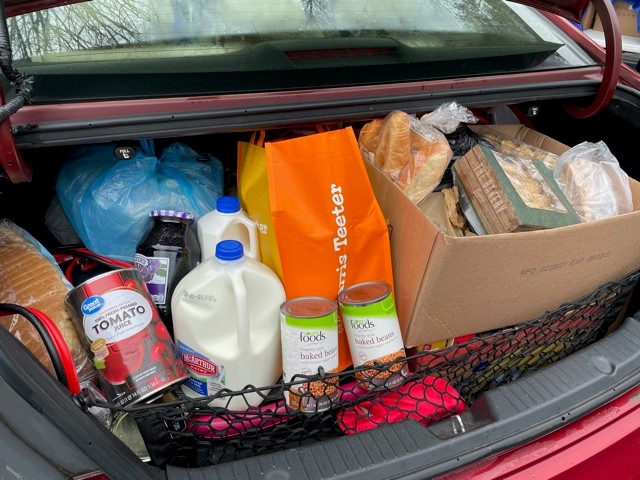 ---
Hunger Has Many Faces
Many associate the Food Cupboard with the homeless population, but it is a small percentage of the people we serve. Hunger looks like middle-class families suffering from joblessness, senior citizens who face the choice of buying food or medicine, and children who arrive at school hungry because there's no food at home.
Need Other Services?
Food Bank CENC Food Finder
Wake Network of Care: Links to services and support in Wake County
Other Area Food Pantries
Meals on Wheels
Closed on Holidays
Holidays: The Food Cupboard is open the afternoon of Monday, Jan. 16th, 2023, to serve clients for our appointment distribution. The Cupboard is closed on holidays, including Memorial Day, Labor Day, and Thanksgiving. The Food Cupboard will be closed for the Christmas holiday Dec. 22, 2023, through Jan. 1, 2024. The first distribution in 2024 will be on Jan. 4.
---