June 1, 2022
Hunger Doesn't Take a Vacation
Would your neighborhood, business, or group host a food drive this summer?
Traditionally, during the months of November and December alone, the Holly Springs Food Cupboard receives 46% of its food donations for the year! It's an amazing outpouring of support, and we are thankful. Now that we are a half year from the holidays, we are in need of additional non-perishable food donations.
Please consider helping by holding a food drive with your neighborhood, business, church or other group. Hunger doesn't take a vacation.
How to help:
Thank you for hosting a food drive! Please contact the Cupboard's Food Drive Director Lesa O'Neal at

[email protected]

. Or, express your interest via our online form.
Let us know your group's name and what month you'd like to adopt for hosting your food drive. We'll be in touch to answer any questions you have and to arrange a time for you to drop off donations.
Visit our website to learn more tips about how to organize a food drive, pack donations for expedited sorting, and more.
We know summer is a busy season and that you have many demands on your time, energy, and generosity. But we hope you will consider joining our Hunger Doesn't Take a Vacation summer food drive campaign. We are grateful for all you do to support the Food Cupboard – we couldn't operate the Cupboard without you.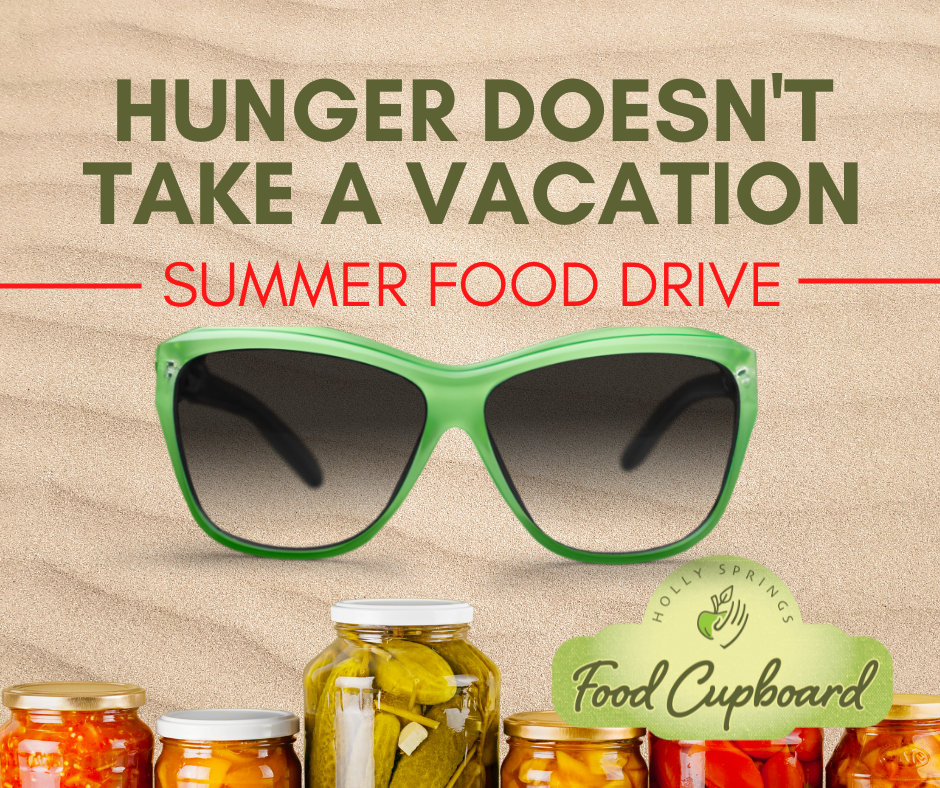 Thank You, Food Recovery Partners!
What is food recovery?
Food recovery is the process of salvaging food that would otherwise be thrown away from places like grocery stores, farms, and restaurants, then distributing the food to people who need it. The "recovered" food is safe, nutritious, and just as tasty, but it would have been discarded, often because of how it looks (such as bruised produce), because of overstocking, or because it is past its "sell by" date (such as day-old bread).
Feeding America, the nation's largest domestic hunger-relief organization, estimates that 108 billion pounds of food is wasted annually in the US; 61% (or 66 billion pounds) of that is commercial food waste.
What does food recovery have to do with the Holly Springs Food Cupboard?
The Cupboard has several local food recovery partners. Donations include items such as meats, produce, deli foods, and baked goods. The following is a list of our food recovery partners. If you can, please stop in to say hello and see what these compassionate businesses have to offer. Tell them the Cupboard sent you!
Two Schools, Two Food Drives: We Are So Grateful!
Thank you so much, Holly Springs Elementary and Holly Ridge Elementary, for amazing food drives during May! Between the two schools, more than 8,469 pounds of food was donated, which couldn't have come at a better time to help restock Cupboard shelves. We very much appreciate the generous giving by staff, children and parents!
/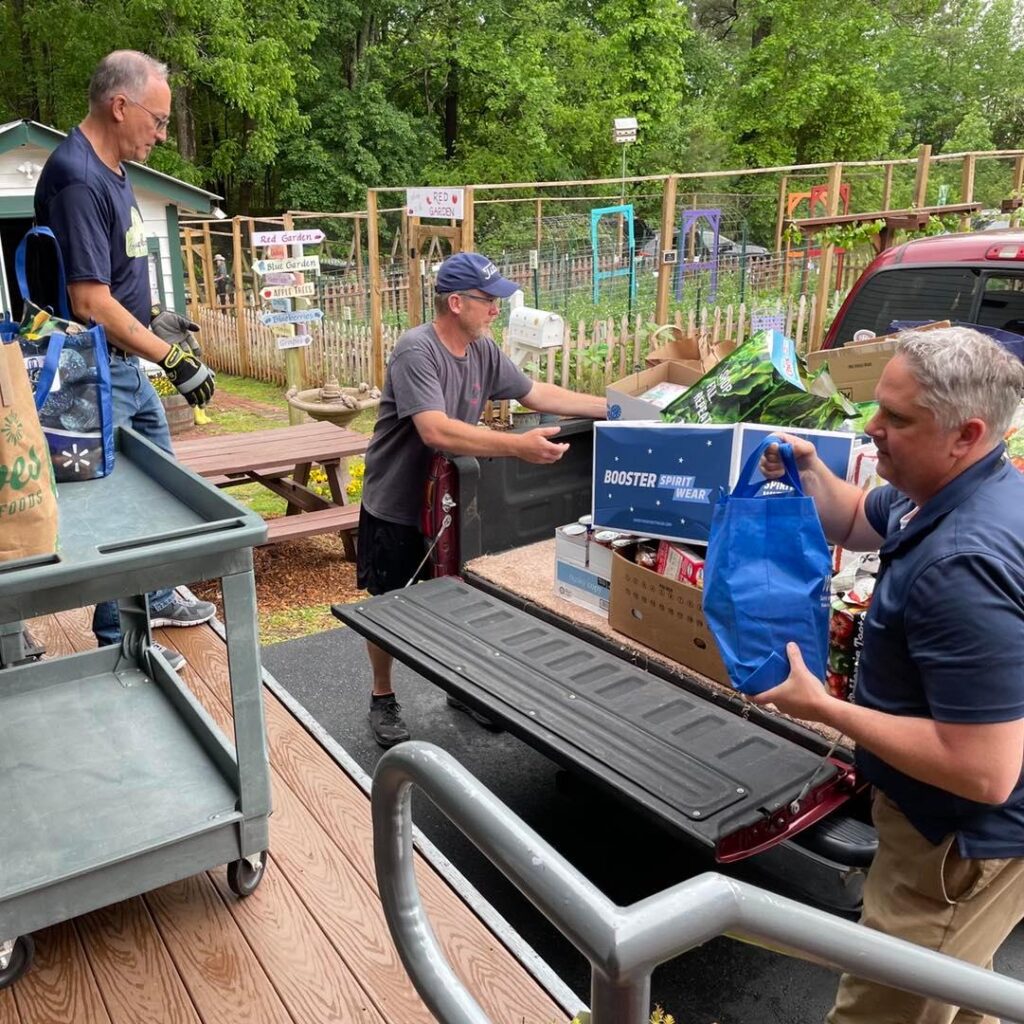 Also in May:
Girls On the Run Heart and Soul team's community impact project donated over 155 pounds to the Holly Springs Food Cupboard!
Madeline and Charlotte donated $98 from their yard sale to the Holly Springs Food Cupboard.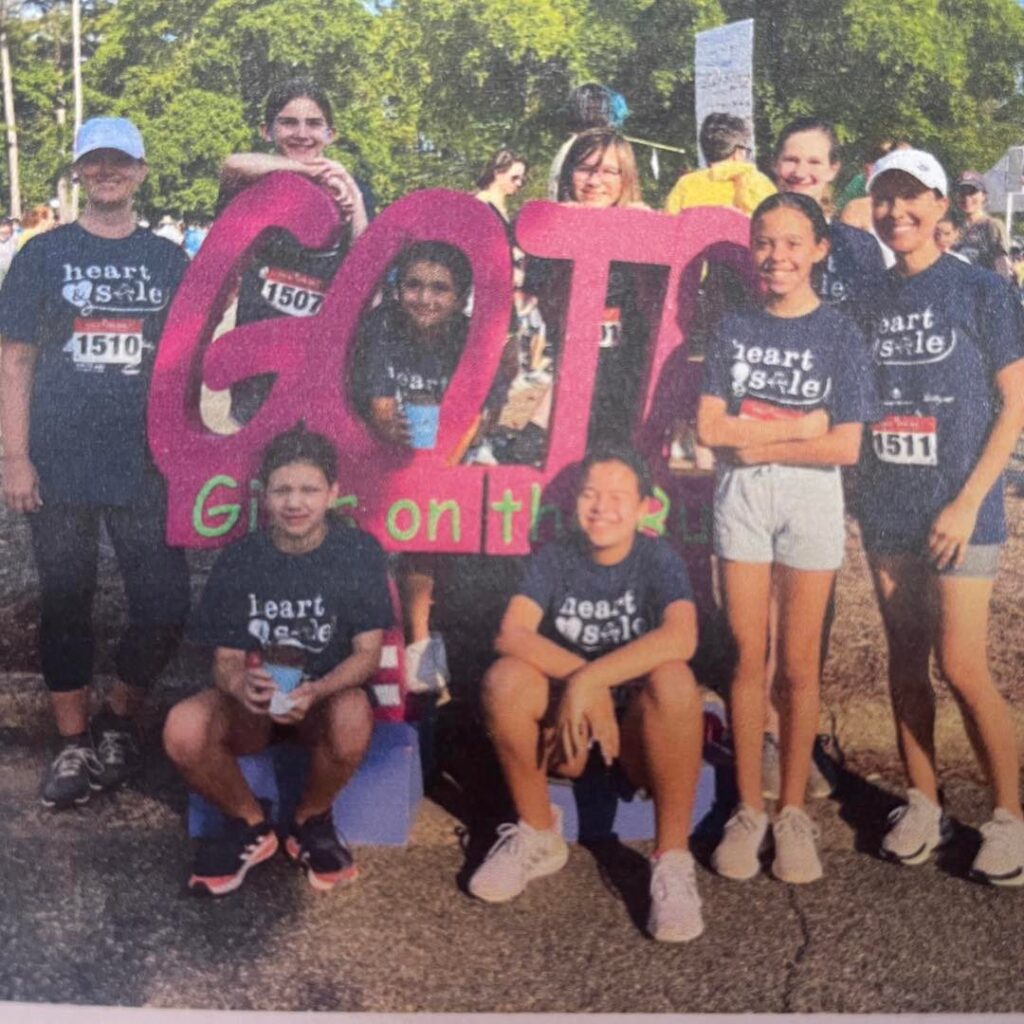 Welcome, Jesse Corbin!
Many thanks to Jesse Corbin, who is the new Administration Director on the Holly Springs Food Cupboard volunteer Board of Directors. You recently might have seen Jesse volunteering in the garden, helping set up a new, modernized food weigh-in system inside the Cupboard, or rolling up his sleeves to expand the Cupboard wifi signal to reach the edges of the parking lot on food distribution days. He also was behind the scenes of our recent website redesign! As Administration Director, Jesse's work helping the Food Cupboard to continue to operate smoothly will continue. Thank you, Jesse!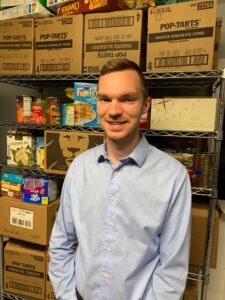 Garden Update
Interested in volunteering in the Holly Springs Food Cupboard garden? Consider dropping by Saturdays between 9-11 a.m. and stay as long as you like. All ages are welcome, and we try to find fun tasks for younger children. Bring gloves and a drink; no need to bring any tools. Interested? Feel free to contact Food Cupboard Garden Director Jerry DeWitt at [email protected] to be added to the volunteer list.
May Garden Activity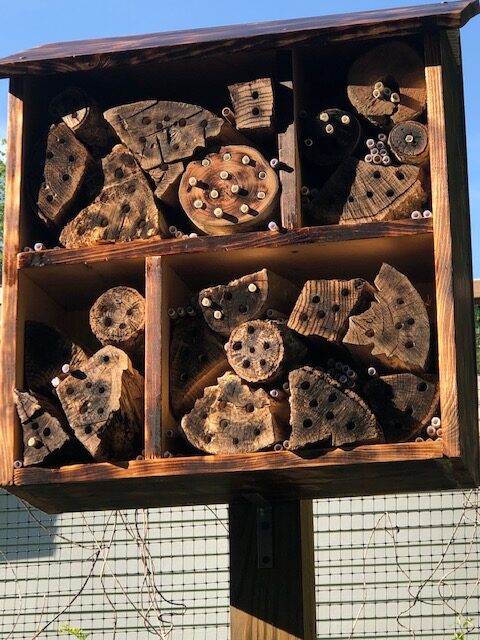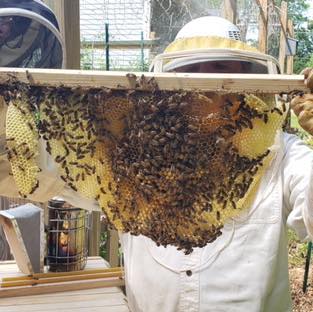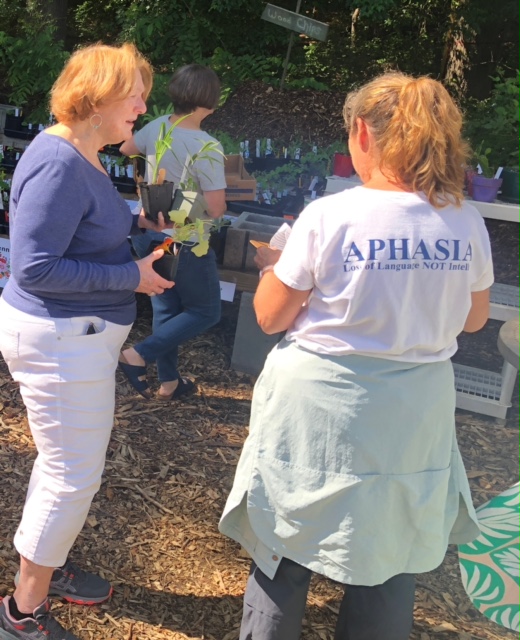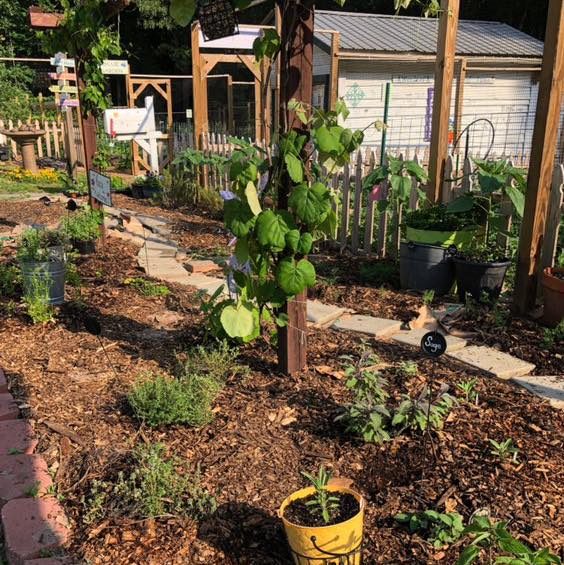 Do you need food assistance? Know someone who does?
Please visit us. The Holly Springs Food Cupboard is here to help. Food distribution is every Thursday, 2-5 p.m. Deliveries are available to senior citizens and persons with compromised health or without transportation. Click here for more information.
Donating food?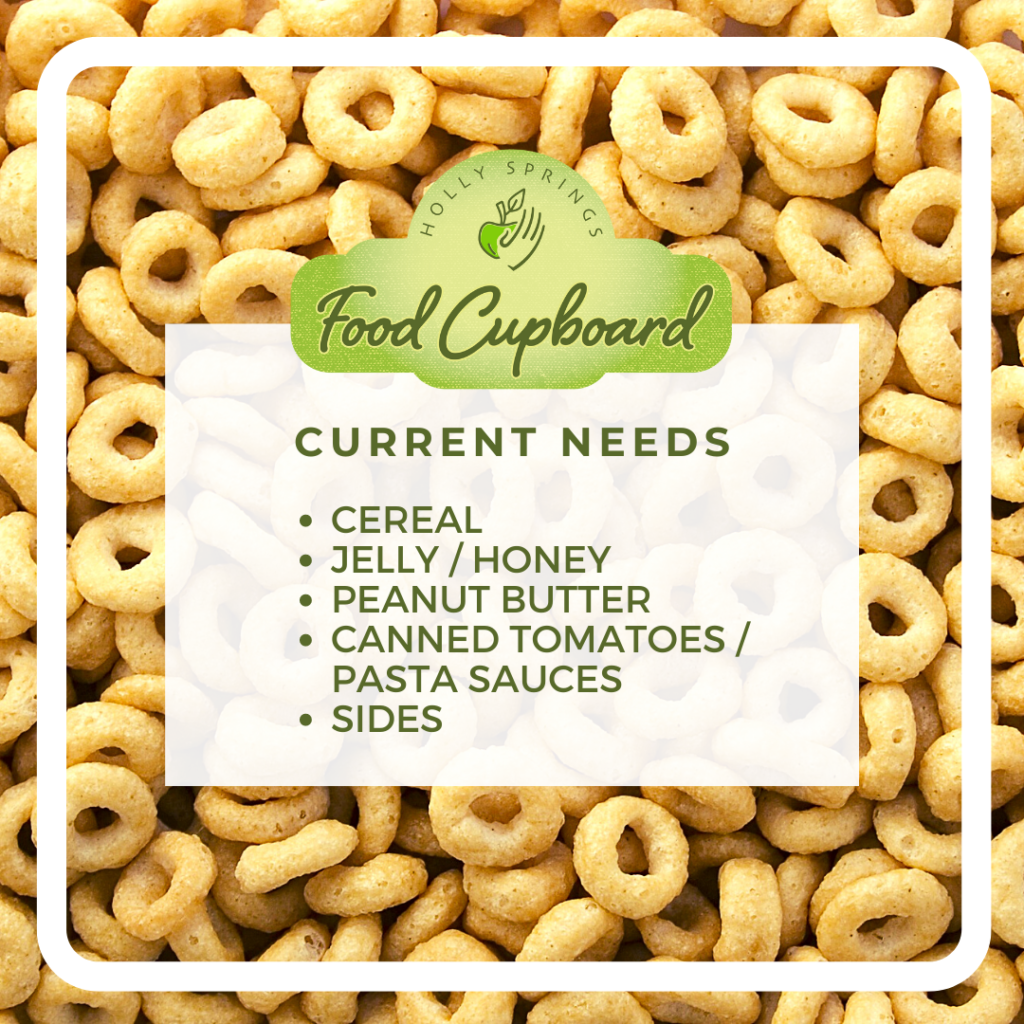 How to Get Food to the Cupboard
The Cupboard can receive donated food on:
Preferred hours: Mondays 9-11 a.m.
Also: Thursdays noon-5 p.m.
Place donations on our delivery dock on the side of our facility and knock to allow for safe distancing. Or, give us a call and we can meet you to pick up food from your neighborhood.
If you have food that you want to deliver at other times, you can take it to one of our community drop-off sites listed below. If necessary, we can arrange a time for a pick-up. Please do not leave food outside the Cupboard.
Community Drop-Off Sites
The Block on Main, Corner of Main Street and Rogers Street
First Flight Federal Credit Union, Village Walk Drive
Holly Springs Farmers Market, West Ballentine Street
Holly Springs Town Hall, Main Street
Pet Mania, Sunset Lake Road
Sunrise United Methodist Church, 5420 Sunset Lake Road
Sweet Berry Bowls, 150 W Holly Springs Road
Wake FC, Ting Park
More Ways to Give
PayPal: Support the Holly Springs Food Cupboard when you shop online with PayPal. Set us as your favorite charity, and you can choose to donate $1 when you checkout with PayPal. Click here visit PayPal and save the Holly Springs Food Cupboard as your favorite charity. This allows you to conveniently support us at checkout and other donation opportunities.
Amazon: Enjoy online shopping? Use this link to set up AmazonSmile. Amazon donates 0.5% of the price of your eligible AmazonSmile purchases to the Holly Springs Food Cupboard.
If you're using the Amazon app, select the main menu, select "AmazonSmile" within Programs & Features, and select "Holly Springs Food Cupboard as your charity. Follow the on-screen instructions to activate AmazonSmile in the mobile app.
More Information
Thank you, again, to our dedicated volunteers and generous community for making everything we do possible.